*This post may contain affiliate links. As an Amazon Associate we earn from qualifying purchases.
In the last few years, there has been a surge in affordable smartphones as well as quality-conscious phone makers. The market has turned so much that now it is difficult to differentiate between brands and their offerings through specifications alone.
Which is better, the "redmi or realme" is a question that has been asked many times. The answer to this question comes down to personal preference and what you want out of your phone.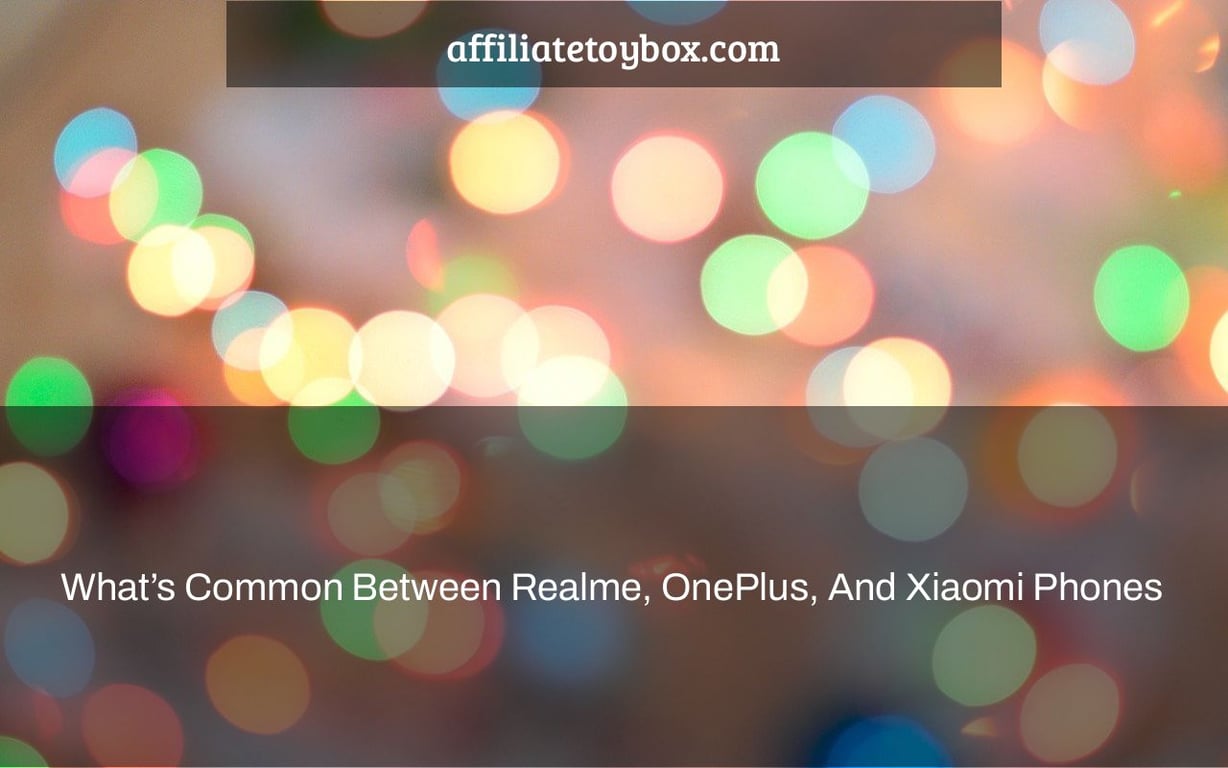 I don't know about you, but I like staying current with new technology, which is why I upgrade my smartphone every two years. In the past, choosing a new gadget was not difficult for me; but, in December of last year, it took me longer, mostly because there were so many possibilities on the market.
If you're having trouble deciding between a Xiaomi, Realme, or OnePlus smartphone, don't worry; our guide below may assist. Here's a rundown of key similarities and differences between these three smartphones that can help you choose a new phone:
The Three Alternatives Have Some Similarities
mightygadget.co.uk is the source of this information.
The first thing you should know is the three phones we'll be comparing. We've selected to compare the Xiaomi 11i 5G, OnePlus Nord CE 5G, and Realme GT 5G in this post. When it comes to screen size, Xiaomi takes the lead with a 6.67-inch display, while the other two alternatives have the same 6.43-inch screen size. So, if you're looking for something bigger, Xiaomi's phone can be a good fit.
When it comes to processors, they're all powerful, but they're all different. OnePlus and Realme, for example, both employ Qualcomm Snapdragon CPUs, but Xiaomi uses the MediaTek Dimensity 920 chipset. One of the most important factors to consider when deciding what smartphone is right for you is what you'll use it for. As a result, if you're just going to use it for shooting photos, messaging, and social networking, you may want to go with something less powerful.
When it comes to buying a smartphone, cameras are quite essential to me. As a result, you should be aware that, among these phones, Xiaomi has the greatest back camera, with 108 megapixels and an extra 8 megapixels. The rear cameras of both OnePlus and Realme are 64+8+2 megapixels. All of the smartphones we're looking at include a 16-megapixel front camera that can take good photos and selfies.
All three smartphones feature the same storage capacity of 128GB, so you'll have plenty of room to save photos and videos, as well as download various apps like social networking platforms and games. OnePlus and Xiaomi both have 6GB of RAM, however Realme has 8GB. They all feature a 1080×2400 pixel resolution and are powered by Android version 11.
As you can see, there is a wide range of The Three Alternatives Have Some Similarities we've mentioned above, hence, the only thing that you'll have to consider is the differences we've mentioned. Keep in mind, you'll want to do some additional research on all three options, and if needed, you can use different websites such as smarttechnologyweb.com that'll quickly display all the information you need for choosing a specific phone.
Is There Anything to Consider When Buying a Phone?
xiaomitoday.com is the source of this information.
Before we wrap up this post, there are a few points to consider that will assist you in determining which smartphone is best for you. You should keep in mind that there are so many possibilities on the market that you should not hurry your selection, particularly because you may buy a superior item for less money. The following are some of the aspects to think about while selecting a phone:
Your Financial Plan
Before anything else, you must consider Your Financial Plan. Why? Well, doing so will make it easier for you to learn what devices you can afford and which ones are too expensive for you. By knowing how much you can spend on a new phone, it'll be easier for you to make a list of the potential devices you can purchase, which is something that'll make the entire process less time-consuming.
The OS
Currently, there are various operating systems to select from, but Android and IOS are the most frequent and popular. Of course, if you pick IOS, you're essentially deciding to buy an Apple smartphone, the iPhone. Almost all other smartphones on the market will operate on Android OS, so figuring out which one is best for you and your requirements is essential.
The Energizer
bgr.in is the source of this information.
No one wants a phone that has to be charged all of the time. Of course, how long it lasts will be determined by how and how often you use your smartphone. If you're an average user, a 3000mAh battery should enough; but, if you often use the smartphone for gaming, streaming, or social networking, a battery with at least 3500mAh may be more appropriate.
The Video Cameras
As I previously said, one of the most significant features for me when purchasing a smartphone is the front and back cameras. If you want to take high-quality, clear photos with your phone, you should look at a variety of metrics, such as pixel size, megapixels, ISO levels, autofocus, and any other function that can be useful to you. Front cameras are often less powerful than back cameras, although most phones can take nice photographs.
Additional Features
Fingerprint unlock, headphone jack, micro SD slot… these are only some of the additional features you might want your phone to have. So, once you're done considering all the aforementioned things, consider what Additional Features you might want the device to have. By doing so, you can make sure that you opt for a phone that'll provide you with a lot of benefits, as well as one that'll make everything easier for you.
Conclusion
With so many new alternatives available on the market, choosing a new smartphone may be complicated and intimidating. However, by evaluating various possibilities like we did above and understanding what factors to consider, you can not only make the process simpler, but you can also guarantee that you get a device that is right for you.
Don't waste time now that you've learned about the similarities and differences between Xiaomi, Realme, and OnePlus devices, and you know what to look for when selecting a device. Instead, build a list of prospective devices and then compare the possibilities on your list to limit down your choices.
The "oppo, vivo, realme oneplus owner" is a product review that discusses the similarities between three popular phones. The article also mentions the differences between these phones.
Frequently Asked Questions
Is OnePlus same as Realme?
A: OnePlus and Realme are two different brands. They do not make the same type of smartphone in any way, shape, or form.
Is Xiaomi and Realme are same?
A: No, they are not the same. Realme is a subsidiary of Oppo while Xiaomi has no relation to it.
Is OnePlus owned by Xiaomi?
A: No, OnePlus is not owned by Xiaomi. They are two different companies that have been around for a long time and they dont even compete with each other.
Related Tags
is realme and xiaomi same company
bbk electronics owner
is realme owned by xiaomi
realme xiaomi price
realme parent company